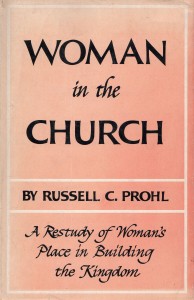 Woman in the Church: A Restudy of Woman's Place in Building the Kingdom was written by Lutheran Church-Missouri Synod Pastor Russell C. Prohl and published in 1957.  It had a limited printing and has not been available except on the secondary market for over fifty years.
Thankfully, its existence was made known in Mary Todd's book, Authority Vested, pages 163-177.  According to Todd, Rev. Prohl died in 1960 "at age fifty-three.  With his death the most vocal spokesman for a change in the status of women in the Missouri Synod was silenced, and the church was spared having to take definitive action against a dissenter." (p. 176)
Women had not been granted suffrage in the LCMS when Woman in the Church was written and yet its content remains relevant today.  Pastor Prohl intended that his book be part of a larger conversation in the Missouri Synod about the role of women in the church.  His work includes study on 1 Corinthians 11, 1 Corinthians 14, 1 Timothy 2, the order of creation and the order of redemption, Old Testament authority, husband and wife relationships, and women of the Old Testament, New Testament, and today.