Coming Very Soon! Women Pastors
Posted by: Carol Schmidt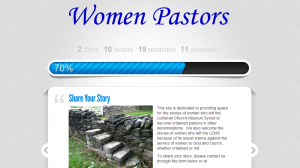 We're on track to go live with the Women Pastors site next week and will continue to update it as we receive new stories and materials.  Please help spread the word to women who grew up in the LCMS and moved on to become ordained in other denominations.  We'd love to hear from you and to share your stories.
For more information: LCMSWomenPastors.com
To receive updates and new stories as they are published please use the email sign up form on this page.
Tags: LCMS, Lutheran Church Missouri Synod, Ordain Women Now, OWN, women pastors