What Does This Mean?
Posted by: Administrator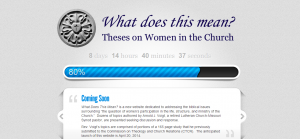 What Does This Mean? is a new website dedicated to addressing the biblical issues surrounding "the question of women's participation in the life, structure, and ministry of the Church."  Dozens of topics authored by Arnold J. Voigt, a retired Lutheran Church-Missouri Synod pastor, are presented seeking discussion and response.
Rev. Voigt's topics are comprised of portions of a 165 page study that he previously submitted to the Commission on Theology and Church Relations (CTCR).  The anticipated launch of this website is April 20, 2014.
Tags: Genesis, Interpretation, LCMS, Lutheran Church Missouri Synod, Ordain Women Now, order of creation, Ordination of Women, What Does This Mean